ASH Wales & Allen Carr's Easyway Organisation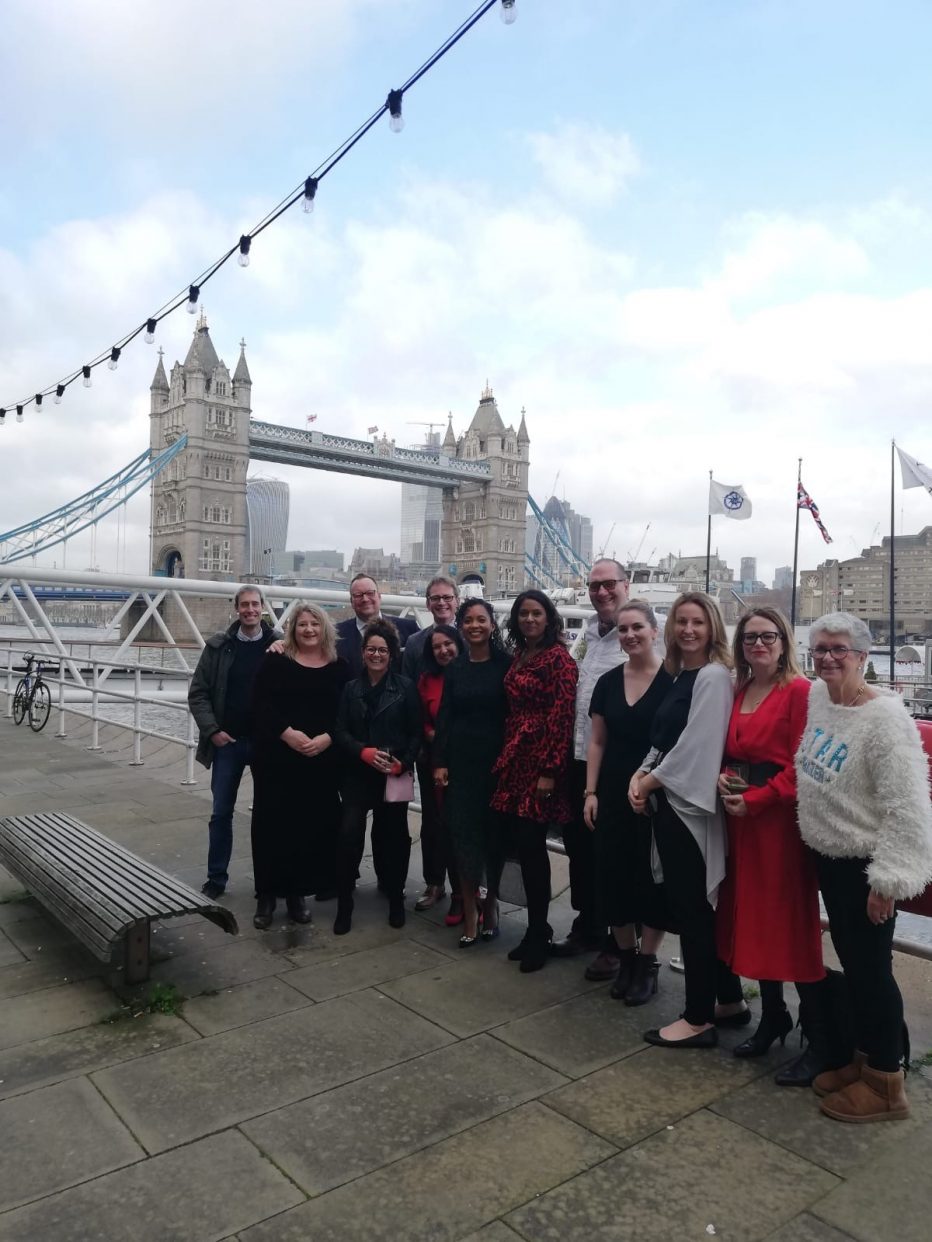 Allen Carr's Easyway & ASH Wales to Help the Smokers of Wales to Quit
John Dicey, is a former 80 a day smoker who has treated more than 30,000 smokers face to face and helped carry Allen Carr's method to an estimated 50 million people worldwide. He is Global CEO & Senior Therapist, of Allen Carr's Easyway Organisation, and has agreed to support the smokers of Wales to quit smoking free of charge during the Covid-19 outbreak. He lives in the suburbs of London, where he's working from home under lock-down, and is pictured (3rd from left) with the brilliant team at Allen Carr's London HQ Christmas Lunch in December.
"I feel genuinely honoured to be asked by ASH Wales to provide support to Welsh smokers who might want to quit during this period of self-isolation and crisis. We've been plunged into a world of fear and chaos and the last thing any of us need at the moment is any more feelings of discomfort, concern, or vulnerability than is necessary. So, whether you've already quit, or are planning to quit, I hope the words that follow provide some insight, inspiration, and reassurance."
Can we Salvage Something Positive from this Crisis?
As we're all beginning to come to terms with enforced self-isolation, it's become apparent that many people have decided to react in the most positive of ways by actively engaging in some areas of self-improvement. The attitude is one of, "Well, if there's nothing I can do about being confined to my home for the next few weeks or months, I'll make something positive out of this situation by undertaking to emerge from lockdown, as a better version of ME".
With that in mind, there has never been a better time to quit smoking! The important thing is to go about it in the correct way.
Attitude is Everything
Firstly, it seems counter-intuitive not to use the lockdown period, or the fear of lower resistance to Coronavirus, as a motivation, but it is essential that you do not. Why? Negative motivations create a negative frame of mind – they add to the stress and unpleasantness of a situation. You become someone who is not only confined to home because of the crisis, but someone who isn't even allowed to smoke anymore. That's really grim.
However, if you use a true motivation, to quit smoking because you'll enjoy your life so much more as a non-smoker, then there is no negative aspect to quitting smoking. Rather than feeling even more grim, there's an attitude of, "OK – things could be better – but they could also be a whole lot worse – at least I don't have to smoke anymore".
That's Easy for you to Say but I Enjoy Smoking!
Of course, at the moment, if you haven't already quit smoking, or if you've quit and are finding it tough going, you might find it hard to imagine life being better without cigarettes. We've become so brainwashed by the affect of nicotine addiction. We've lost sight of how the addiction manipulates every aspect of our lives. How it kids us into thinking that it's impossible to feel happy, relaxed, have fun, handle stress, or focus or concentrate, or even handle self-isolation without cigarettes. But think about it.
What does a smoker do when they're happy? They smoke! What does a smoker do when they're sad? They smoke! What about when they're relaxed? They smoke! How about when they're unrelaxed or stressed? You've got it – they smoke!
The fact is, our addiction to nicotine makes us incapable of doing anything without a cigarette before, during, or after. That's not enjoyment, or pleasure, or fun and it doesn't involve any exercise of choice; it's called drug addiction!
But How Will I Relax or Cope with Stress?
We have so many illusory beliefs that surround smoking. None of them stand up to any level of scrutiny. For example, as an 80 a day smoker I was convinced that smoking helped me to relax and chill out at the end of a hard day – but that smoking also helped me focus and concentrate on my demanding work. I used to sit at a desk all day – puffing away – incapable of doing anything without a cigarette in my mouth. I was the world's worst chain-smoker.
But think about the beliefs I just expressed. How could a successful, hard-nosed business person seriously believe that the same drug that helped him to relax and chill out without a care in the world in the evening – could also make him super-alert, focused, and entirely 'on point' during the day at work? It just doesn't make sense, yet I believed it.
One of my biggest fears about quitting was that it would make the hard times harder and make the good times dull and dreary. No-one was more surprised than me when I discovered after quitting – that the good times were even better as a non-smoker – and the times when life throws you curve balls weren't nearly as bad…or for that matter nearly as frequent. It's amazing how smoking drags us down – it actually creates more problems while making existing ones even worse.
It's Not About Kidding Yourself into Being Positive
When you quit smoking, it isn't just a case of having to "think positively" in the hope that quitting won't be as bad as you feared, there's simply nothing to be negative about. Being free is the best feeling in the world and it starts the moment you stub out your final cigarette.
It's our repeated failed attempts to quit smoking with the wrong mindset that convinces us that we'll never be free – or that even if we do get free, we'll be miserable. It's essential that you understand, especially at this time of self-isolation and crisis, you have absolutely nothing to lose by quitting smoking, and everything to gain.
Go for It!
If you want to quit smoking on your own – it'll be my pleasure to provide you with some further advice and guidance, or answer your questions, over the coming weeks. If you'd like to use Allen Carr's Easyway I'm delighted to highlight some options for you below (many of which are FREE). The great thing about Allen Carr's method is that you carry on smoking until you're happy to stub out your final cigarette.
ONLINE FREE: Our Live Online Group Seminars (normal cost £299) are absolutely free for Vitality Health Insurance policyholders. The seminars are live and interactive and led by a Senior Allen Carr's Easyway Therapist who will guide you through the process and all you need to "attend" is a laptop or tablet.
Book FREE Live Online Group Seminar
ONLINE HALF PRICE: If you're not fortunate enough to have Vitality Health Insurance then you can enjoy a 50% discount if you attend one of our Live Online Group Seminars (normal price £299 so now £149.50) in April or May (book quick because places are limited). Use code ASHWALES when booking & if you complete the programme and don't quit smoking your fee is refunded in full.
Book HALF PRICE Live Online Group Seminar (ASHWALES)
ONLINE FREE: Audible allow new members a free book when they open an account. You're under no obligation to make any subsequent purchases and they'll allow you to have a free copy of 'Allen Carr's Quit Smoking Boot Camp' audiobook. It's delivered direct to your phone. I'd recommend this particular Allen Carr book as it tackles more contemporary issues than the original, 'Allen Carr's Easyway to Stop Smoking', which is also available for free to new members of Audible.
Audible FREE Trial with Allen Carr's Quit Smoking Boot Camp
ONLINE via EMAIL FREE: If you just quit smoking and need some support please do get in touch. We're happy to provide free of charge advice to anyone in need of it regardless of whether they are using Allen Carr's Easyway method or not.
ONLINE FULL PRICE: Our Online Video Programme is a highly effective 2.5 hour audio-visual programme that costs £149.
Read More about Allen Carr's Stop Smoking & Vaping programmes
Coming Soon!
Next time I'll answer some of your questions about stopping smoking and cover some common concerns and issues that smokers encounter when they quit:
What about when I drink – my willpower slips, and I end up smoking.
My partner smokes – will that make it harder?
I'm worried about nicotine withdrawal – it's been torture and hell in the past?
I'm worried about weight gain – is there a way to avoid it?
From the desk of John Dicey, Global CEO & Senior Therapist, Allen Carr's Easyway
Copyright Allen Carr's Easyway (International) 2020