A Gentle Solution to Emotional Eating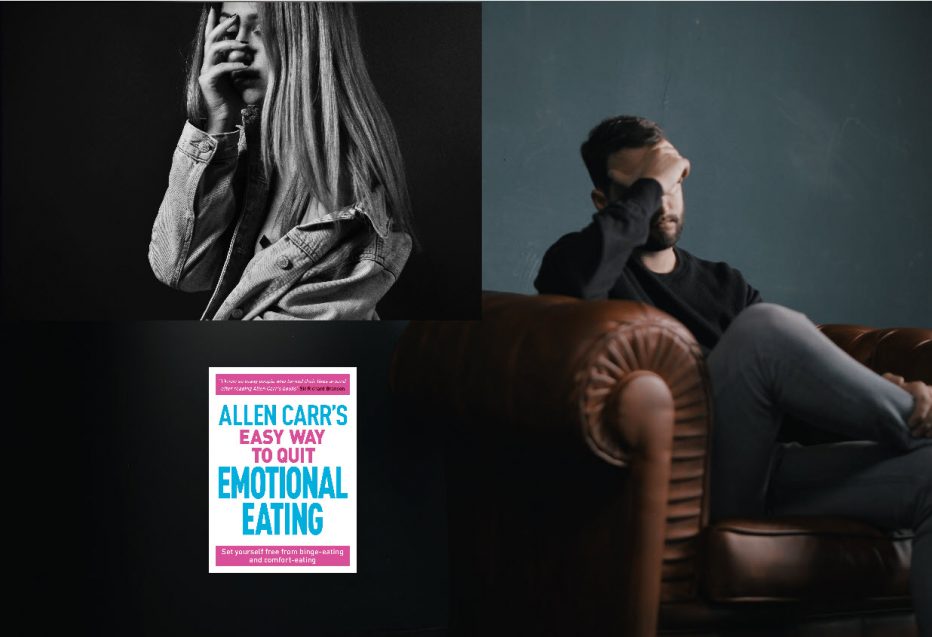 Allen Carr's Easyway Method – Now Applied to Emotional Eating
The latest book from Allen Carr's Easyway (which already has 5 stars on Amazon) is formally dedicated to the former emotional eaters all over the world who can testify personally to the effectiveness of Allen Carr's Easyway method and without whom the book would not have been possible.
Does Emotional Eating or Binge Eating Affect You?
Do you reward yourself with food?
Do you eat to comfort yourself or feel secure? Or do you restrict what you eat to feel in control or secure?
Does your eating increase when you're stressed or sad?
Do you keep eating even when you're full?
Do you avoid food altogether sometimes or often?
Do you engage in frequent or occasional binge eating?
Do you ever wish you could resist the urge to eat? Or find it difficult to bring yourself to eat?
Have you ever purged food (self-induced vomiting, misuse of laxatives, diuretics, or enemas), or has the thought of purging food crossed your mind?
Do you feel controlled by food?
These are all symptoms of your relationship with stress, pressure, negative emotions, food, eating, appetite, and digestion having become dysfunctional and distorted.
Who Can the Book Help?
The book doesn't get bogged down with medical or psychological labels. All the symptoms listed above can be factors in a whole host of diagnosable conditions. These range from 'Emotional eating' (often labelled as 'Emotional Overeating') to issues considered to be far more serious such as 'Other Specified Feeding or Eating Disorder' (OSFED), 'Binge Eating Disorder', 'Bulimia', and 'Anorexia'. These latter conditions are recognised as serious mental illnesses. They can affect anyone of any age, gender, or background. If you feel or fear that you might be suffering from any of these serious conditions then please, please consult your family physician, doctor, or GP. It's natural to feel nervous about sharing your concerns with them but it's really important that you do. If you need a little help to get to that stage then there are a host of amazing charities and organisations out there who will lend you an anonymous ear in a kind, gentle, understanding, knowledgeable, and non-judgemental way. The value of just speaking to someone about your issue is incalculable.
Help for Everyone
All that said, if you suffer with those serious issues, please don't feel deflated or deflected with regard to your expectations for how 'Allen Carr's Easyway to Quit Emotional Eating' might be able to help you. The book doesn't take the place of the kind of help and support that you may need from your doctor and medical advisors in the event that you have a condition such as Binge Eating Disorder, Bulimia, or Anorexia but there is no reason why it shouldn't help you establish a healthier understanding of your relationship with food and your emotions along with the vast majority of readers who are lucky enough not to be living with those challenging conditions.
Whichever category you might fall into – there is nothing within the book which might cause you harm or hindrance, and much that might help you unlock the prison door that keeps you trapped in the emotional eating trap.
There is Nothing to Lose and Everything to Gain
Emotional eating is defined as using food to relieve negative emotions, rather than to relieve hunger. It leads to a complex and unhappy relationship with food, a tendency to overeat and put on weight, accompanied by feelings of helplessness, sluggishness and self-loathing. You may have tried and failed to control your eating by dieting or just willing yourself to stop. What you need is a method that truly understands the multiple psychological, rather than the physical, causes and effects of emotional eating and how to untangle them.
You have nothing to lose and everything to gain from exploring Allen Carr's Easyway to Quit Emotional Eating. You can read a little more about how Allen Carr's Easyway books are written here.
From the desk of John Dicey, Global CEO & Senior Therapist, Allen Carr's Easyway
#EmotionalEating #BingeEating 
BUY the book (Rest of the World)