"I started smoking while working part-time for a tobacco company while I was at university. My job was to give away samples of their cigarette brands to customers in bars and nightclubs."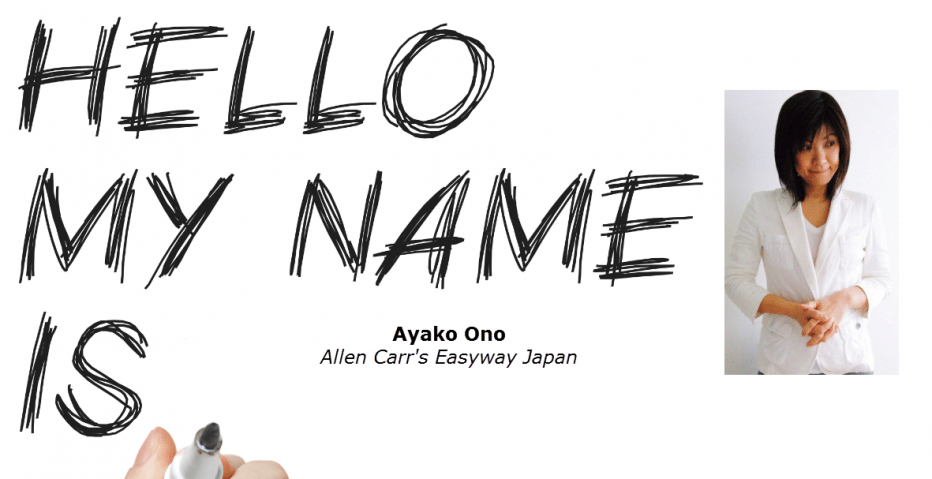 "I started smoking while working part-time for a tobacco company while I was at university. My job was to give away samples of their cigarette brands to customers in bars and nightclubs."
John Dicey, Worldwide CEO & Senior Therapist, Allen Carr's Easyway, interviews Ayako Ono, Allen Carr's Easyway to Stop Smoking Japan
John: How did you come to be a smoker Aya?
Aya: I started smoking while working part-time for a tobacco company while I was at university. My job was give away samples of their cigarette brands to customers in bars and nightclubs.
I was working with lots of girls who all looked so sophisticated, slim, and fashionable with their long hair, perfect figures, and seemingly stylish way of smoking.
As a 20-year-old young woman I was in awe of them, I think I admired them, I wanted to be like them, so I tried to smoke for the first time in my life.
There were no special or rational reasons to smoke. I just wanted to be thin, sophisticated, and fashionable like the girls around me.
John: That's how it all started. Did you smoke for a long time after that? Did you try to quit smoking many times?
Aya: It seems amazing that after that I smoked for nearly 20 years – all for such a ridiculous, tiny, phoney reason.
I tried to quit smoking so many times. It was a continuous challenge and led me to despair. Every time I failed to quit I felt worse, and worse about myself. I blamed myself since I thought I was weak-willed.
I tried every method to stop smoking, nicotine inhalator, nicotine patches, nicotine gum, internet support, and consultations with doctors.
I finally heard about Allen Carr's Easyway Seminars in Tokyo – I attended the seminar and was immediately freed from my addiction. It was an amazing feeling of freedom.
John: Did you notice anything else when you stopped smoking? You did something amazing with the money you saved. Tell us about that?
Aya: It hit me so hard – that I had blamed myself for so long for being weak. It wasn't my fault. If you are a smoker and you are reading this – it is wonderful to know – it is not your fault. I realised I had been trapped and was finally free.
Other than the health and self-esteem I was amazed how much more money I had. I decided to donate the money to children in developing countries. I learned so much from the postcards I received from the children each month. Helping these kids get an education and water instead of spending my money on cigarettes is something I'm proud of, and grateful for.
I also wanted to help smokers to get free. I wanted to help Allen Carr's Easyway help even more people. I was lucky to be selected to study to be an Allen Carr's Easyway therapist in Japan.
It is now my joy and pleasure to help smokers quit in my home city of Sapporo. I don't think people who have never smoked can understand the joy of being free.
Read more about 'How to Stop Smoking'
Read more about 'How to Stop Vaping'
Read more about 'Our Workplace Programmes'
#QuitSmoking #StopSmoking #BeAddictionFree #AllenCarr #QuitVaping #StopVaping