Life as a smoker was hard work!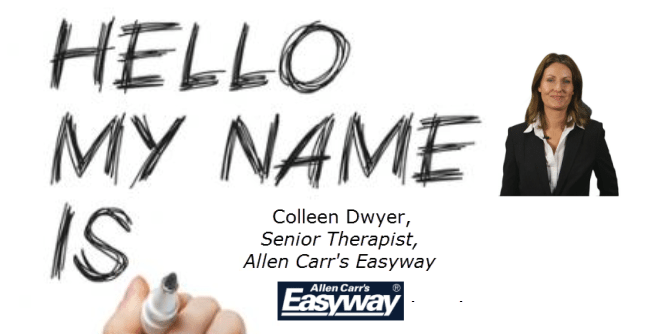 "Life as a smoker was hard work! Even though society was more tolerant of smoking 20 years ago it was still a massive effort to manage my 60 a day addiction".
John Dicey, Worldwide CEO & Senior Therapist, Allen Carr's Easyway, interviews Colleen Dwyer, Corporate Business Sales Manager & Senior Therapist, Allen Carr's Easyway London & Worldwide
John: What was your life like as a smoker? How much did you smoke? How many times did you try to quit with other methods? What other methods did you try to use?
Colleen: Life as a smoker was hard work! Even though society was more tolerant of smoking 20 years ago it was still a massive effort to manage my 60 a day addiction. I remember the near constant anxiety of making sure I had enough cigarettes. Thinking about it now – I must have been exhausted. I did try to quit smoking every so often (mainly with willpower alone) but not with any long term success.
John: How did you hear about Allen Carr's Easyway to Stop Smoking method?
Colleen: I originally heard about Allen's method through my sister-in-law. I didn't take much notice when she quit smoking but when my sister also quit smoking, I was amazed. She seemed really cool about not smoking and she wasn't bothered if I was smoking near her – she didn't seem tempted at all. I thought that I had to give it a try and so I bought Allen's book and read it from cover to cover. I had high hopes but I didn't stop smoking as a result of the book – it took a seminar for me to take the step to freedom.
John: What was it like to stop smoking with the method? How did it change your way of life? Was it easy?
Colleen: Even though it was a long time ago I remember very well how it felt to quit smoking with the seminar. I was quite scared and sceptical when I arrived and I was bemused and unsure when I left the seminar. I wasn't sure how things were going to play out, but whenever I thought about cigarettes I felt calm and unfazed. I had a growing sense of freedom and excitement in the days following my seminar. I still feel incredibly fortunate to have stopped smoking.
John: How did you get in touch with Allen Carr's Easyway about becoming a therapist and franchisee? What was the recruitment process like?
Colleen: I contacted the London office three years after stopping smoking and expressed interest in becoming a therapist. It was incredibly hard even to get selected for an interview. But I persevered and after attending a number of interviews I was thrilled to have been selected to start training to become a therapist in London.
John: What was it like learning to be an Allen Carr therapist?
Colleen: Learning to be a therapist was intense and exciting. I was completely immersed in the Allen Carr philosophy for more than 6 months and I was pretty nervous before delivering my first ever seminar.
John: What is it like to be an Allen Carr therapist?
Colleen: I remember how vulnerable and confused I felt as a smoker attending my seminar and how reassuring you were as a therapist (yes – you were my stop smoking therapist John 🙂 ). I feel very privileged to be in a position to offer that reassurance to other smokers and it is nothing short of fantastic to see the subtle transformations in clients as we go through the seminar knowing what an impact it will have on the clients' daily quality and enjoyment of life. Most of the seminars I run are at our stop smoking centre in London. It's in Raynes Park, just down the road from Wimbledon. The transport links are brilliant – so if you live in London – it really is close to you.
John: What it is like to be part of the global Allen Carr team?
Colleen: The global Allen Carr team is ambitious, friendly and supportive. I have never before worked with a group of people who are so committed to the same goal. There's a real sense of purpose with what we are doing and we share in each other's achievements and challenges of pursuing our common goal. The team is growing each year and it's wonderful to see the new team members each year at our annual international conference.
John: You know divide your time between being an Allen Carr Therapist and helping Allen Carr's Corporate Clients with their stop smoking needs. What is that like?
Colleen: It's fabulous. I get to meet lots of people from all kinds of companies who want to help their workforce become healthier. They can send their smoking employees to our centres or we provide our seminars to groups of their employees on site. It's lovely working with companies who really want to look after the health of their employees.
Read more about 'How to Stop Smoking'
Read more about 'How to Stop Vaping'
Read more about 'Our Workplace Programmes'
#QuitSmoking #StopSmoking #BeAddictionFree #AllenCarr
#QuitVaping #StopVaping #BeAddictionFree #AllenCarr
From the desk of John Dicey, Worldwide CEO & Senior Therapist, Allen Carr's Easyway