Just click on the link below to access the part of the page you are interested in:
FREE Allen Carr Stop Drinking Video & Information!
Has the way we drink alcohol changed?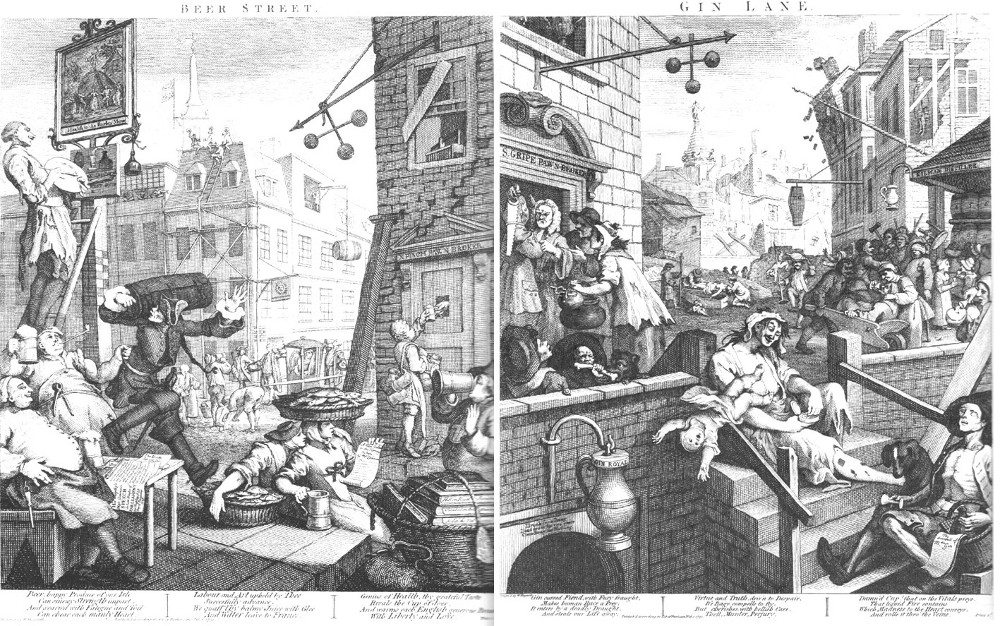 Has the way we drink changed dramatically over the past few decades? Of course it's always been the case that people have taken alcohol – seemingly in order to get drunk – and over the centuries what we drink and how we drink it has evolved many times. A basic appreciation of Hogarth's Beer Street and Gin Lane is evidence enough – albeit satirically so. At face value it warns of the dangers of consuming 'new-fangled' highly potent gin versus the purported benign effects of drinking traditional 'olde English ale'. That comparison is not a million miles away from that made between the apparent binge drinking culture that appeared to morph out of the "normal" level of drinking of the 1960s, 1970s, & 1980s.
Even today – new ways of describing or labelling the effects of drinking on our behaviour seem to appear as each week passes. Who'd have thought that 'drunkorexia' would ever claim to exist as a real 'thing'? Apparently it's the 'phenomenon' of people who are concerned about their weight skipping meals in order to 'save' calories so they can be consumed as alcohol. Of course the condition shouldn't be dismissed – the phenomenon is certainly creating a problem for those who suffer it.
Of course – drink problems are largely the same as they've always been and are causing exactly the same kind of behaviours as they've always caused. You could say that the only differences in recent years are the amount of alcohol drunk (is there such a thing as a small glass of wine anymore?), the frequency of drinking, the heavy consumption of alcohol being considered normal (where did the repulsive phrase "mummy juice" come from?), the potency of the alcohol, and the early age at which youngsters are starting to drink. That said – I have no doubt Hogarth could have made the same, or at least similar, observations in 1751
We're #1 in the World
Don't just take our word for it
Here are some celebrities with their thoughts on Allen Carr's Easyway method
 How Allen Carr's Easyway Helped Me to Quit Alcohol in 2005 & Quit Smoking in 2001
Real People, Real Stories – Testimonial by Oliver*
*results may vary
What is Allen Carr's Easyway? – short video with subtitles
If you want to read more then click here
Quit Alcohol programs
Easyway doesn't focus on the downsides of drinking – you know all about those already. Instead the method answers the question "what's so great about being a drinker?" Understanding that is the key to being set free.
There a number of ways of using the Allen Carr's Easyway method choose the right one for you.
Prices from £99.
Still have some questions?
Why not speak with a consultant. Our friendly team are standing by and happy to chat.
Click below to use live message chat online, or call us on
+ 44 (0)208 944 7761.
Tell a friend about Allen Carr's Easyway
Do you know someone who would benefit from being introduced to Allen Carr's Easyway? Send them this page via email