Stop drinking live group seminar
The seminar, whether attending at a centre or online via zoom from the comfort of your own home, is the most effective way of benefiting from Allen Carr's Easyway.
We don't focus on the downsides of drinking – you know all about those already.
Instead the seminar answers the question "What's so great about being a drinker?"
Understanding that is the key to being set free.
The approach is simple, logical and can even help those who are not sure they want to quit drinking completely.
Book centre seminar from US$495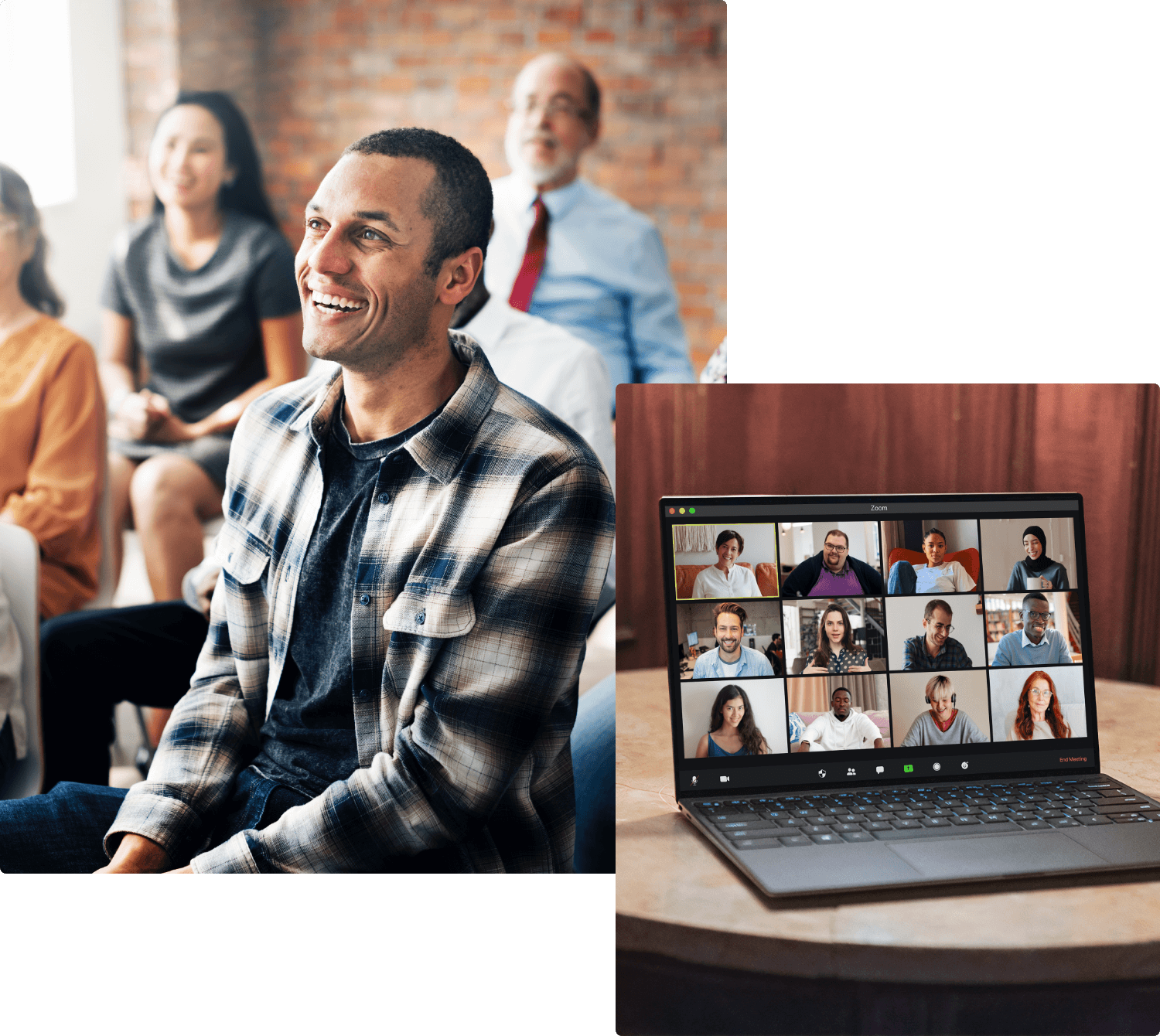 No substitutes or medications

The programme only takes 6-7 hours

No bad withdrawal symptoms

No willpower required

Over 50 million people helped
What's included?
The live group seminar is delivered by a highly experienced therapist either at a centre or online using Zoom via a computer, tablet or smartphone.
Live presentation and interaction with therapist
6-7 hours duration
10 to  25 people attending
Highest success rate
Even more effective than our books or Online Video Programmes
Therapist support by phone & email
Free back up seminars for the few that require them
We promise no scare tactics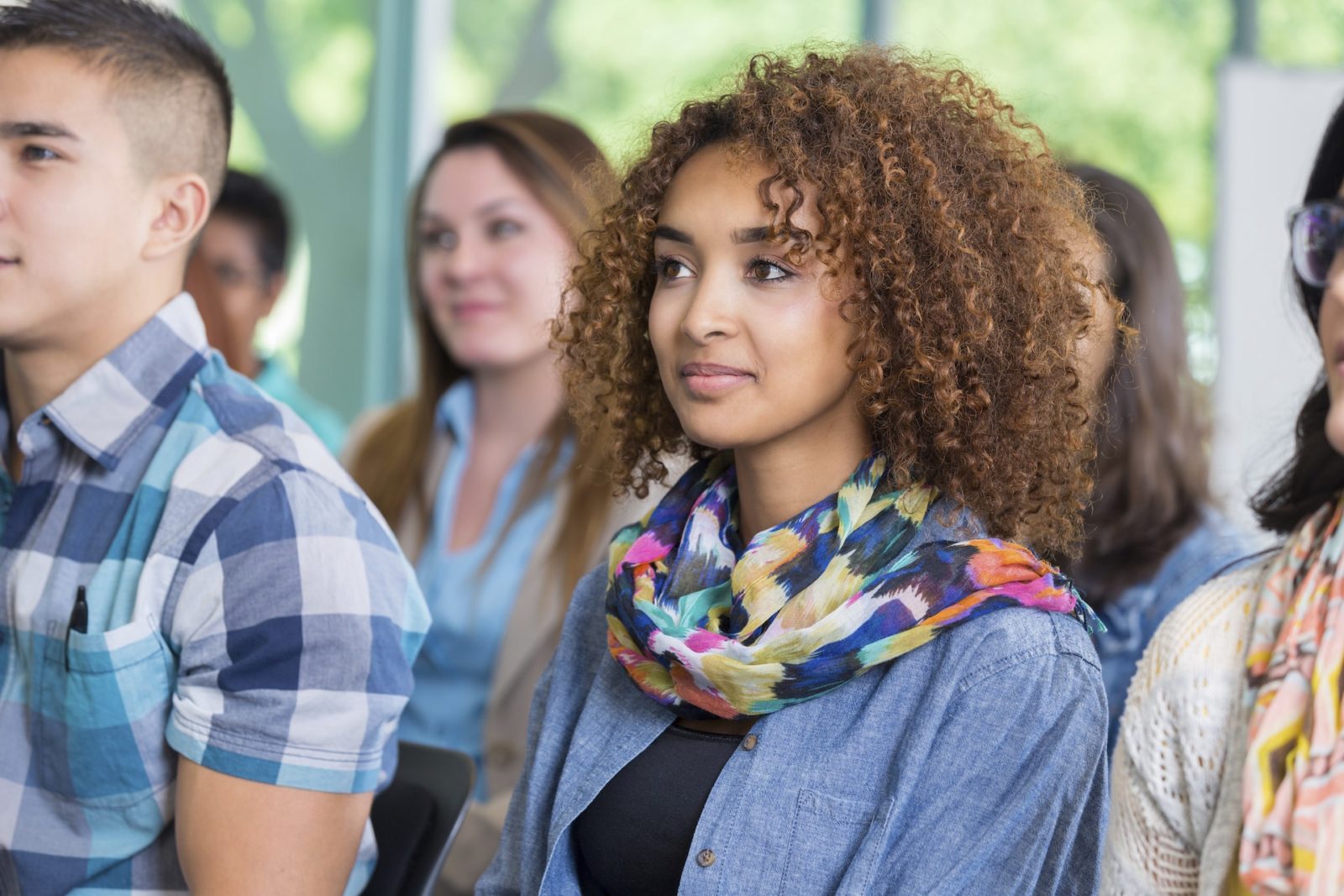 What happens in a Seminar?
The live group seminar is the most effective way to use Allen Carr's Easyway whether attending at a centre or online using Zoom via a computer, tablet or smartphone.
Watch our short video to see what you can expect from the seminar
We help you to understand your addiction or issue
We show you how to transform it
We remove the fear so you can set yourself free
Most people who attend our seminars do so as a result of hearing about us from friends, relatives and colleagues who successfully stopped drinking with Allen Carr's method.
In spite of those recommendations, many people arrive feeling nervous about the outcome of their appointment.
Our team is specially trained to reduce this nervousness.
Before and during the clinic seminar, everyone fills out their registration form with details of their drinking history and any other particular issue they might like to highlight.
This helps us make sure that all concerns are covered during the seminar.
Everyone who attends a clinic receives our famous money back guarantee if they don't succeed in stopping drinking when they've completed the programme, their fee is refunded in full.
Our therapists are all former drinkers who used Allen Carr's Easyway to stop drinking.
Using their expert Allen Carr's Easyway training and wealth of experience, they address each drinker's individual fears and concerns about stopping.
Although a lot of information needs to be delivered, the therapist always addresses the individual needs of everyone present in a dynamic way, which only a live seminar can achieve.
This is one of the many advantages to attending an Allen Carr's Easyway live seminar over and above using one of our books or other products.
Some people, particularly celebrities, prefer a 1 to 1 seminar, and these are also available on special request.
As a final, relaxing climax of the day the essential points of the seminar are reinforced by a 20 minute relaxation exercise.
Everyone makes themselves comfortable, closes their eyes and listens to the words.
This is a pleasant, harmless and calming experience.
Everyone is given contact details to use in the unlikely event that they require support.
After the seminar.
Most people succeed with just 15 hour seminar, but we also offer special, shorter backup seminars over the following months for the few people who require them.
These are different from the initial seminar, are specifically designed for those who fail and are completely free of charge with a success rate of 90%.
Based on our money back guarantee, a huge majority of people will leave to start a new, clean and healthy life, joining more than 30 million people worldwide who have already succeeded with the method for details of our money back guarantee and your nearest Allen Carr's Easyway to stop drinking seminar visit.
If you have any questions at all, please don't hesitate to get in touch.
We look forward to hearing from you and guiding you to a wonderful drink free future.
Understanding why you drink
The programme does not use any scare tactics or shocking images of the harm that drinking does. You know all about that already.
Instead we examine and correct the misconceptions that keep all drinkers trapped. We don't just look at the physical addiction but the mental aspect as well. 
You may be surprised that the addiction is 1% physical and 99% mental.
This is the most important aspect of stopping drinking with Allen Carr's Easyway – as long as we 'get your head right' the physical aspects of the addiction are actually incredibly mild. 
We know at this point you will find this hard to believe but it only takes a few hours for us to show you how.
What is it that keeps you hooked?
Drinkers believe that they get some sort of genuine pleasure or benefit from alcohol. 
That it helps them enjoy life, handle stress, relax and socialise.
For this reason they fear that even if they do succeed in stopping they will be miserable and feel deprived for the rest of their lives.
In addition to that fear, drinkers also fear the downsides of drinking alcohol; the health worries, the stigma, the cost, the slavery and although they work hard not to think about them they remain like a huge dark cloud at the back of a drinker's mind.
These are the fears that keep drinkers hooked.
The method removes your need and desire to drink and removes the fears that keep you hooked.
Freedom
You will finish the seminar as a happy non-drinker without any need for aids or substitutes.
The seminar removes any feeling of deprivation, leaving you in the right frame of mind to be free from alcohol and by following some simple instructions you will find that the physical withdrawal from alcohol is hardly noticeable.
You will not miss drinking!
Don't forget with the money-back guarantee you have nothing to lose and everything to gain.
Money back guarantee
If you don't succeed after completing the programme we offer a full refund under our money-back guarantee.
We believe that we are unique in offering this guarantee – we can do this because our success rate is so high.
Success Stories
Don't just take our word for it, read how some clients and celebrities learnt how to stop drinking with Allen Carr's Easyway method.
You changed my life
I truly think if I wasn't a comedian, I would want to be an Allen Carr seminar leader! I believe in it so much! – Nikki Glaser
Nikki Glaser (Comedian) & Jamie Lissow (Actor)
Alcohol, Smoking and Vaping
Oliver Lewis
Alcohol, Smoking and Vaping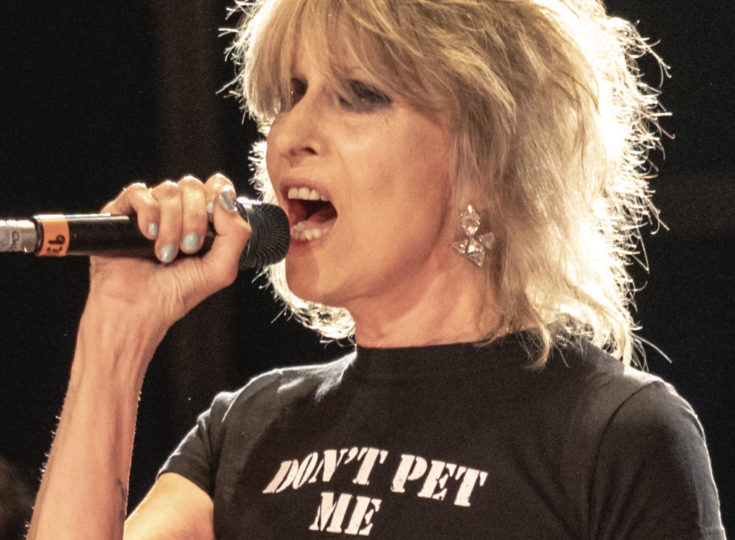 Chrissie Hynde (Musician, Singer & Songwriter – The Pretenders)
Alcohol, Smoking and Vaping
Kimber Post, US (Wyoming)
Alcohol
If you're like me, you are very skeptical about what this claims it can do. I've tried to quit drinking many times but I would get grouchy and I missed it terribly…… It's only been four days but I know it will be permanent. To all of you doubting that I can know it's permanent …. I would think the same thing …… Alcohol used to be my favorite thing and now I can't stand the thought of it. I feel great for the first time in years. No more being a slave to it ! F you alcohol!
Having read the easy way to quit smoking book years ago and successfully quitting i don't know why I waited so long to apply the same to drinking.
The day seminar hosted by Chris was surprisingly enjoyable!
I feel I have the insight to stay booze free but happy to hang out with other drinkers.
So nice to have a doom and gloom free approach laid out in simple terms. I am extremely grateful
Chris was extremely relatable and professional.
5 years ago I today came to your stop drinking seminar with my cousin Lucy, so hungover that I was actually sick in your toilet, and terrified of the prospect of a life with out alcohol.
I am a thoroughly happy teetotaller. I have not touched, or wanted, a drop of alcohol since the seminar (nor has Lucy).
This morning I got up at 6.30 and went for a walk in the woods to find the sunrise. (We are staying at Spa for a celebratory treat). Life couldn't be more different now.
I wanted to let you know that, thanks to Easyway, I am not drinking and haven't been for around year.
I also have no sugar cravings following the Easyweigh session in January. 
More than anything, I am a much happier person.
I thought I was happy enough before but this is a deep kind of happiness because I am fully present ALL of the time – no blurred edges. Its great. 
I really value that work you do and thank you so much for the wonderful way you work. I still hear your voice ' you'll be fine' and I know that I am and I will be. Blessings to you all at Allen Carr (and yes, you can use this quote and my name – no problem) 
Alcohol, Emotional Eating, Sugar and Weight
Guys you won't believe it but I have quit all my addictions one after another! I attended a stop smoking seminar in April, this seminar nearly worked but I needed a backup one so attended it a week later and haven't smoked since I then read the stop drinking now book, followed by good sugar bad sugar then purchased the quitting caffeine video seminar yesterday and completed it.
For anyone wondering on where I was before I was smoking 40 cigarettes a day (a lot for my age I think)
Was drinking 6-8 beers a day for years and then in the space of a few months it spiralled suddenly to 8-12 then 12-15 with an ever growing tolerance so I'd just do it to feel normal and experiencing shakes and withdrawals along with a funny feeling where my eyes were somtimes rolling back in their sockets and I was zoning out.
With caffeine it started with 1 35p energy drink a day from about age 15-16 then 2 35p energy drinks a day then 1 69p energy drink (500ml) then a 69p and a 35p then 2 monsters then 2 monsters and some coffee later. I wouldn't even engage with anyone until I'd had my two monsters which I'd down one after the other.
With diet I've been a chronic yo-yo dieter since 18, been able to get myself into great shape (even too thin) with willpower then get out of shape again and repeat for years
Alcohol, Caffeine, Emotional Eating, Smoking, Sugar and Weight
Today is my 1 year anniversary from quitting drinking. Never had to use will power. I never felt like I gave something up. Every part of my life has improved. I've lost 50 pounds, gained muscle, have gone back to school, and have gotten straight A's. Every one of my relationships has improved. I literally got my life back. I can't recommend this program enough.
I would like to pass on my sincere thanks to yesterday's 'Easy Way to Control Drinking' webinar host Gerry. I am so pleased I plucked up the courage to take part. The way he explained alcohol dependency & how easy it is to understand & to quit was nothing short of amazing. It was as if I had been in the dark all these years & he turned on the lights & now I can see clearly how insidious & evil drink can be. My mind has turned 360% & I now no longer see myself as denying pleasure – but ridding myself of toxic, addictive poison. I 'got' everything he said & now I look forward to my new life. Gerry was a joy to listen/speak to as he has been where we all have been & the way he explains it is with warmth & clarity & it's all so logical & easy to understand. He deserves much credit as does the mercurial Allen Carr & the whole team, who I am certain help many thousands to escape the misery of alcohol addiction each year!
I wanted to say thank you as I have been now one year completely booze free after many years of alcohol fuelled misery.
After attending the one day course in 2020 my life has improved beyond all expectations. Coming to the session initially I didn't think the method would truly work but it has and I couldn't be happier and more relieved.
Gerry is clearly a brilliant therapist and I want to thank you wholeheartedly for your work with me and I'm sure countless others.
Frequently Asked Questions
What is the money-back guarantee?
Our Money Back Guarantee applies only to our seminars for smoking, vaping, alcohol, & 1-1 drugs.
The reason we offer a money-back guarantee is so that people can try our approach without a financial risk. We are unique amongst established smoking, alcohol and drug addiction cessation services in offering this kind of guarantee.
Less than 10% of our clients make a claim but as long as you complete the programme as specified in our terms below, we will be more than happy to refund your fee.
How successful is Allen Carr's Easyway? / What is your success rate?
The success rate at Allen Carr's Easyway Centres is over 50% after 12 months as indicated in independent scientific studies in peer review journals1.
It is also more effective than established government programmes including the gold standard NHS 1-1 service & the Irish Health Service's Quit.ie based on two randomised controlled trials published in a peer reviewed journals.
Are there terrible withdrawal pangs from alcohol?
You may believe that alcohol withdrawal is difficult and unpleasant, and this belief would create a tremendous fear of quitting for anyone, but is withdrawal really that bad?
The reality is that drinkers go into withdrawal whenever they finish a drink. It is an illusion that there is physical withdrawal pain from the drug itself. We are never badly addicted to the chemical itself.
Perhaps you feel that you have to suffer a few days of withdrawal to get free.
So let's look at the facts.
Need some help?
Not sure if you're ready? Daunted by the prospect of what stopping drinking will mean for you? We can help.
Contact us

Our friendly team are standing by and happy to help if you have any general queries on all things Allen Carr.

Or call us on:

UK & Ireland +44 (0)208 944 7761
Australia & NZ 1300 848 028
USA & Canada +1 855 440 3777

 

Chat to us live

Still have some questions? Why not speak with a consultant. Use our live message chat to talk with one of our friendly team online.