Workplace wellbeing initiatives & programmes for our corporate clients
We are a World Health Organisation Partner and have helped more than 50 million people in  50+ countries worldwide.
The health of your business depends on the health of your employee population.
A healthier, happier, more contented workforce creates a more productive workplace environment and a great return on investment.
We have over 35 years experience helping companies to support their employees with issues and addictions – everything from smoking to alcohol to cocaine to weight to gambling and more.
Allen Carr's Easyway wins prestigious award
We are delighted to announce that we have been awarded, "Best Wellbeing Service Provider" for our wellbeing at work offering which covers sixteen issues and addictions.
Our seminar & programmes
The lasting impact of helping employees free themselves from the trap of their addiction or behavioural issues creates an enormous sense of goodwill between the employee and their employer.
And that's in addition to the improved physical and mental health, financial gains, improved relationships and productivity.
Read on for our corporate wellbeing courses and workplace wellbeing training which includes mindfulness in the workplace courses.
These Online Video Programmes don't just help with the obvious issues that might affect your staff such as smoking, vaping, alcohol, recreational drug abuse, weight control, and healthy eating – it also includes other, softer, but also life-changing elements for those who just want to improve their wellbeing – all reassuringly delivered by a global leader in the field of addiction, behaviour change, and wellbeing issues.
Smoking> Vaping> Alcohol> Caffeine> Cannabis> Cocaine> Debt> Emotional Eating> Exercise & Fitness (coming soon)> Fear of Flying> Gambling> Sleep > Stress > Tech Addiction> Weight Loss & Sugar Addiction> Worry (coming soon)
Anonymity for employees
Affordable
Effective
Easy access to employees
Whenever and wherever they need it 24/7
Our stop smoking, stop drinking, weight loss and sugar addiction seminars last for around 6 hours and are the most effective way of using the method either online (up to 15 people) or in the workplace or other venue (up to 25 people).
All our corporate wellbeing training seminars are run by our fully trained, highly experienced, senior therapists.
Highest success rate
5-6 hour group seminar
Therapist support by phone & email
Free-back up seminars for the few that require them
Price from US$495 per person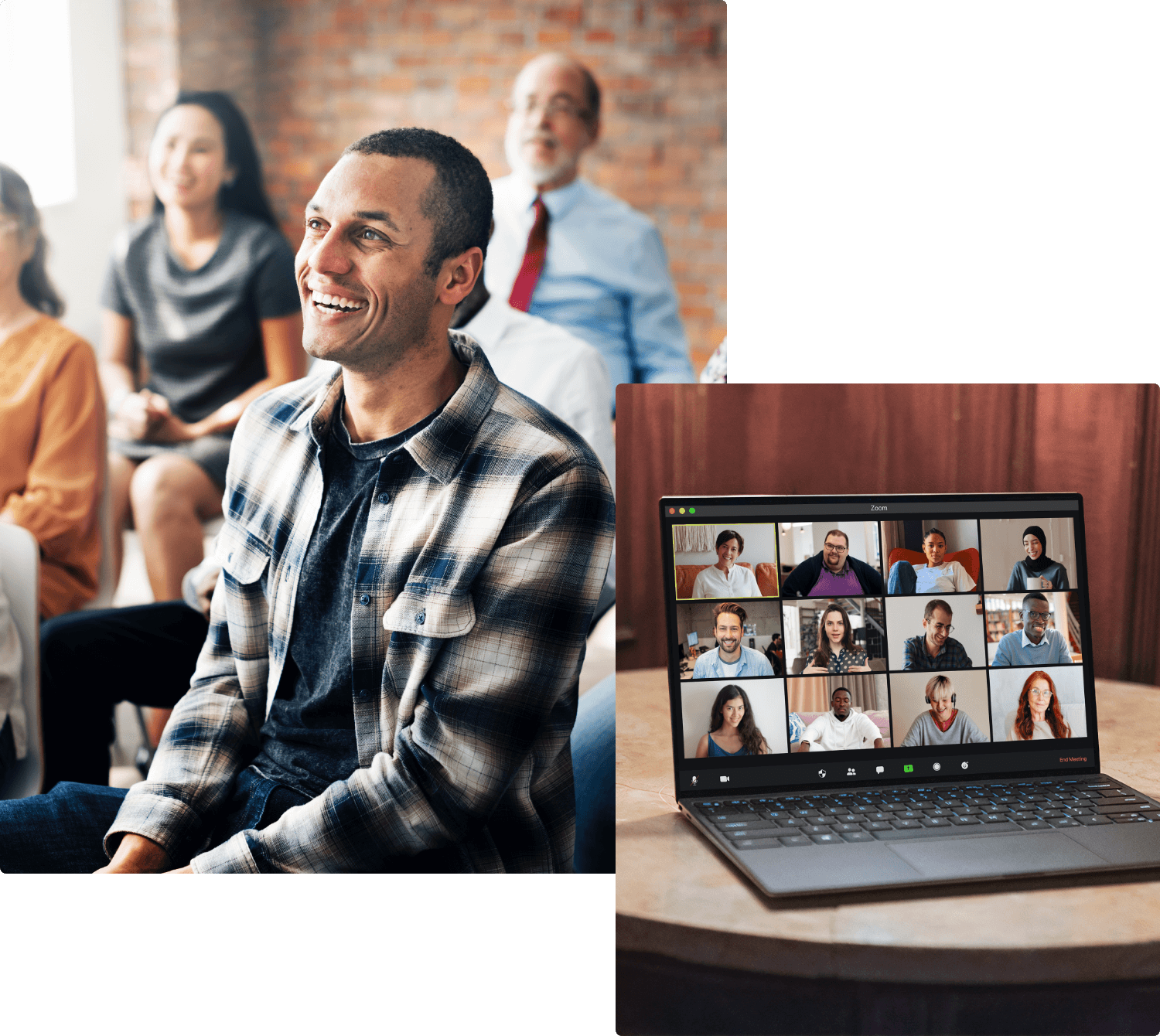 Vitality customers go free!
We partner with the insurance and investment provider that rewards employees for healthy habits. With a Vitality programme, employees can attend one Allen Carr stop smoking programme, as part of their plan, at any one of our centres around the UK or online.
In other words, it's free!
Trusted by the world's leading brands
Corporate client list – a few of our clients
The health of your business depends on the health of your employee population. A healthier, happier, more contented workforce creates a more productive workplace environment and a great return on investment.
The Easyway method: How does it work?
We aim to change how your employees feel about their issue so that getting free becomes easy, enjoyable, exciting, and ensures that they stay free without any sense of loss.
We help them to understand your addiction or issue
We show them how to transform it
We remove the fear so they can set themselves free
We have clinics in over 50 countries worldwide
Vitality Health
Smoking, Vaping and Wellbeing at Work
We went to being a non-smoking company without any kind of drama or any kind of incident. The smokers and the non-smokers ended up happy and that's it. It's done and dusted. – Francois Carcaud-Macaire, Human Resource Director
Total
Smoking, Vaping and Wellbeing at Work
Very impressed with the results.
Budapest Bank
Smoking, Vaping and Wellbeing at Work
Frequently asked questions
Will non-smoker employees be upset that they are not getting anything?
This has never been an issue in the 30 years that we have been operating. In fact we've always found that both non-smokers and smokers are positive about this approach to the issue. One of the many benefits of running this corporate stop smoking programme is increased harmony within the workforce when the problem of smoking is removed.
I don't want to run a seminar at the workplace / We have a lot of home workers who wouldn't be able to make it to a workplace seminar.
That's ok – we have 45+ public centres in the UK for you and your workforce to choose from.
What addictions / issues do you help with?
We help people with a range of addiction or issues including alcohol, caffeine, cannabis, cocaine, debt, drugs, emotional eating, fear of flying, gambling, smoking, sugar, tech addiction, weight, vaping.
What happens during a seminar?
The seminar lasts around five hours, during which the therapist will help you to understand exactly what you do and why you do it. You may be surprised by much of what you hear!
For all addictions the method will clear up the misconceptions that keep you in mental captivity and put an end to mental addiction. This is the most important aspect of the cessation process because without this element you can only quit with great difficulty and suffering. The success rates for all other methods are so low exactly because they ignore the mental aspects of the addiction. They ignore the fact that you think you enjoy smoking, drinking or taking drugs.
In the weight loss programme, the method will prompt you to question the things that society has taught you about sugar, food and eating. Key principles will be suggested which if you apply them, will lead to weight loss, increased vitality, and dramatic improvements in your general health and fitness without you feeling deprived.
The seminar will be held by one of our Senior Therapists all of whom stopped due to Allen Carr's Easyway and applied to join the team. They have all trained extensively before being deemed ready to start conducting seminars as a qualified Allen Carr's Easyway Therapist.
How successful is Allen Carr's Easyway? / What is your success rate?
The success rate at Allen Carr's Easyway Centres is over 50% after 12 months as indicated in independent scientific studies in peer review journals1.
It is also more effective than established government programmes including the gold standard NHS 1-1 service & the Irish Health Service's Quit.ie based on two randomised controlled trials published in a peer reviewed journals.
Will running a seminar appear controlling or "nannying"
No – smokers and non-smokers generally appreciate activities that focus on their health and wellbeing. From raising awareness of the seminars to evaluating the programme we do not place pressure on smokers. It is entirely up to smokers whether they want to participate in the corporate quit smoking programme. Our strength is asking key questions that encourage smokers to consider the possibility of life without cigarettes.
We are very sensitive to the psychology of smokers and we understand their predicament. For this reason we do not focus on the negatives of smoking (smokers are well aware of these anyway). Our approach is intelligent and respectful. In all our communications we aim to challenge and support smokers not belittle or isolate them.
Discover the Top 10 issues and addictions impacting your workforce. Find out the warning signs and how to provide support for your employees.
Need some help?
Not sure if you're ready? Daunted by the prospect of what stopping smoking will mean for you? We can help.
Contact us

Our friendly team are standing by and happy to help if you have any general queries on all things Allen Carr.

Or call us on 44 (0)208 944 7761
 

Chat to us live

Still have some questions? Why not speak with a consultant. Use our live message chat to talk with one of our friendly team online.