Weight loss live group seminar
So you've been on endless diets, low carb, high fat, low fat, keto, or otherwise.
We often think it's just the obvious foods that cause us problems: chocolates, cookies, junk food, cake and candy, but this program shines a whole new light on what to eat in order to 'eat yourself fit'.
Our seminars are currently delivered online via zoom from the comfort of your own home and are the most effective way to access the  Allen Carr's Easyway Weight Loss & Sugar Addiction programme.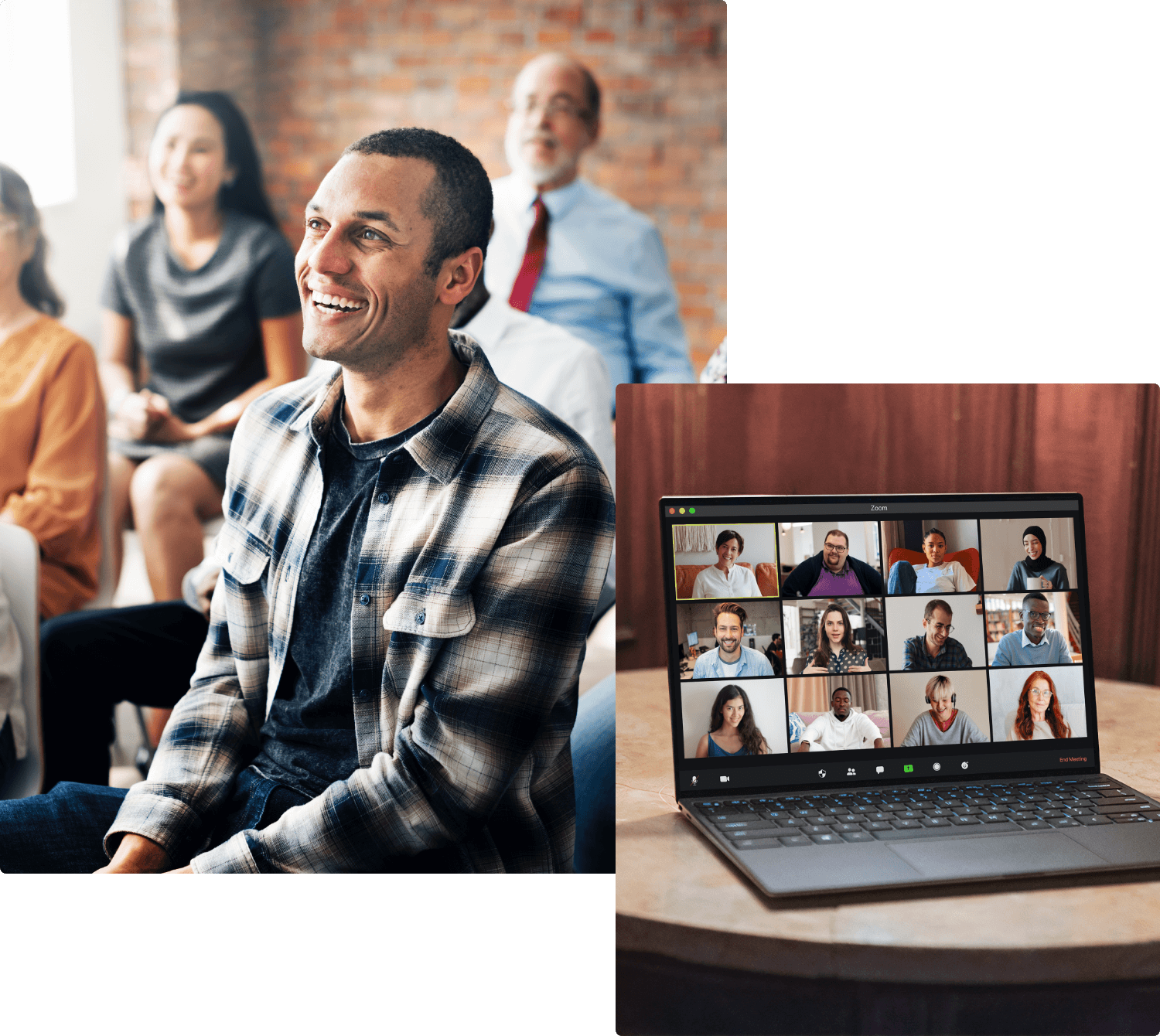 The seminar only takes 6-7 hours

No more dieting

No points or calories to count
No willpower required

World Health Organisation partner

Over 50 million people helped
What's included?
The live group seminar is delivered by a fully qualified, highly experienced senior therapist either at a centre or online using Zoom via a computer, tablet or smartphone.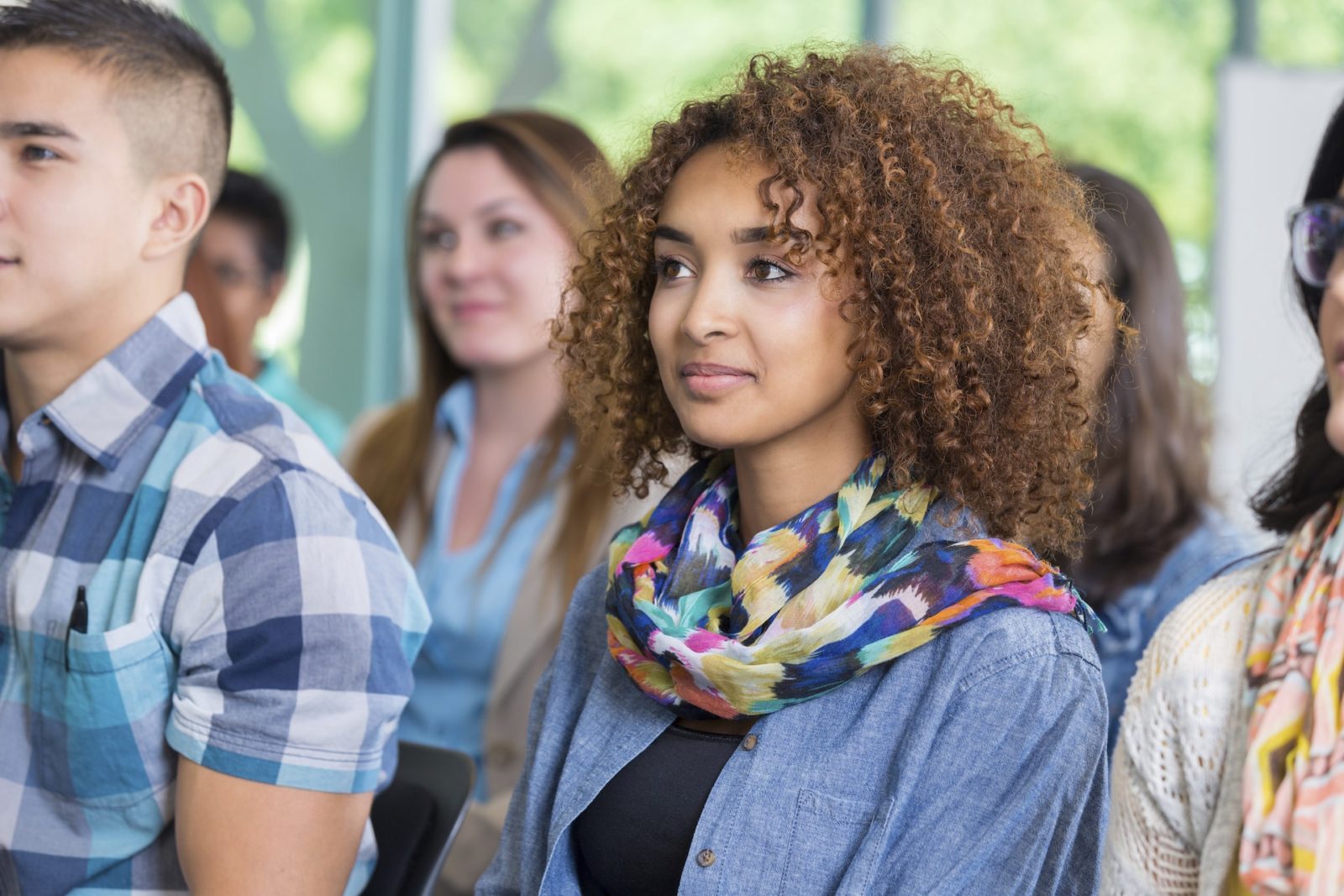 What happens in a Seminar?
The live group seminar is the most effective way to use Allen Carr's Easyway whether attending at a centre or online using Zoom via a computer, tablet or smartphone.
We help you to understand your issue
We show you how to transform it
We remove the fear so you can set yourself free
Most people who attend our seminars do so as a result of hearing about us from friends, relatives and colleagues who have successfully used Allen Carr's Easyway method.
In spite of those recommendations, many people arrive feeling nervous about the outcome of their appointments.
Our team is specially trained to reduce this nervousness before and during the seminar.
Everyone fills out their registration form with details of their dieting history and any other particular issues they might like to highlight.
This helps us make sure that all concerns are covered during the seminar.
Our therapists have all used Allen Carr's Easyway method to lose weight.
Using their expert Allen Carr's Easyway training and wealth of experience,
They address each person's individual fears and concerns about weight loss.
Although a lot of information needs to be delivered, the therapist always addresses the individual needs of everyone present in a dynamic way which only a live seminar can achieve.
This is one of the many advantages to attending an Alan Carr's live seminar over and above using one of our books or other products.
Some people, particularly celebrities, prefer a 1 to 1 seminar, and these are also available on special request.
As a final relaxing climax to the day the essential points of the seminar are reinforced by a 20 minute relaxation exercise.
Everyone makes themselves comfortable, closes their eyes and listens to the words.
This is a pleasant, harmless and calming experience.
Everyone is given contact details to use in the unlikely event that they require support after the seminar.
A huge majority of people will leave to start a new, clean and healthy life, joining more than 50 million people worldwide who have already succeeded with the method.
For details of your nearest Allen Carr's Easyway seminar call +44 208 944 7761.
If you have any questions at all, please don't hesitate to get in touch.
We look forward to hearing from you and guiding you to a wonderful diet free future.
Understanding why you gain weight
The programme does not use any scare tactics or shocking images of the harm that excess weight or sugar causes. You know all about that already.
Instead we examine and correct the misconceptions that keep you trapped eating the wrong foods that cause you to not only gain weight but also feel tired, miserable and unfit. 
We don't just look at the physical aspects but the mental aspect as well. 
You may be surprised that the issue is 1% physical and 99% mental.
This is the most important aspect of losing weight or getting free from sugar addiction with Allen Carr's Easyway – as long as we 'get your head right' losing weight and controlling it is actually incredibly easy. 
We know at this point you will find this hard to believe but it only takes a few hours for us to show you how.
What keeps you from being the size you want?
People believe that they get some sort of genuine pleasure or benefit from eating sugar and junk food.
They fear that even if they do succeed in quitting they will be miserable and feel deprived for the rest of their lives and so struggle to control it.
In addition to that fear, they also fear the downsides of weight loss & sugar addiction; the health worries, the stigma, the cost, the slavery.
Although they work hard not to think about them, they remain like a huge dark cloud at the back of their mind.
These are the fears that keep them hooked on the wrong foods.
The method removes your need and desire to eat junk foods & sugar thereby removing the fears that keep you hooked.
Freedom
You will finish the seminar looking forward to a future of freedom.
You'll learn to follow your natural instincts, avoid guilt and remorse, enjoy the flavours of fresh foods, re-educate your taste buds, and let appetite be your guide rather than your enemy.
There are no points to count or difficult recipes to follow.
There are no prescribed meal plans to stick to, instead your relationship with food will have changed and will enable you to truly enjoy a healthier way of eating.
You will not miss anything!
Success Stories
Don't just take our word for it, read how others have successfully used Allen Carr's Easyway method to lose weight as well as gaining freedom from many other issues & addictions.
I never have to diet again
I used to lose 3 stone then put it back on. A constant yo-yo cycle but thanks to the seminar I enjoy eating and have lost weight
Lisa S, UK
Emotional Eating, Sugar and Weight
It's very genius
It brainwashes you to believe that you've been brainwashed to like sugar and then you are free
Liz Glazer, US
Emotional Eating, Sugar and Weight
You need to consider emotional eating when dieting
It helps you realise that wanting chocolate or that pizza is a symptom and then you can get free.
Briony Crew, UK
Emotional Eating, Sugar and Weight
I don't feel like I am on a diet, I just want to eat, healthy food and drink lots of water.
I haven't struggled to adapt it just feels natural to eat this way
I feel great, finding it really easy best thing I have ever done. I don't feel like I am on a diet just happy eating healthy food
The past month has been very easy, I'm amazed how my attitude has changed towards eating and food
Emotional Eating, Sugar and Weight
Actually enjoying what I am eating, feeling more confident
I would like to thank you for your help, I found the session very helpful
Emotional Eating, Sugar and Weight
Mentally, I feel very positive and happy to feel that I understand why I am eating certain foods and why the timing is important.
I look better and feel better and dropped from a size 16 to 14.
Increased self esteem.
Emotional Eating, Sugar and Weight
I'd got to the stage where I was getting sugar (in the form of cookies and chocolate) on the way home from work every day and hiding it from my boyfriend.
I attended the seminar with Sam and didn't feel anything out of the ordinary when I left, but to my surprise I went home and didn't stop at the shop for my chocolate/cookies.
I didn't the next day either or the day after that.
The desire for sugar was instantly gone. Now 10 months later and I'm still happily free from sugar.
I'm so glad I went along to the seminar. I feel so much happier and more confident in the way I eat.
It really is the best thing I've done.
I wanted to let you know that, thanks to Easyway, I am not drinking and haven't been for around year.
I also have no sugar cravings following the Easyweigh session in January. 
More than anything, I am a much happier person.
I thought I was happy enough before but this is a deep kind of happiness because I am fully present ALL of the time – no blurred edges. Its great. 
I really value that work you do and thank you so much for the wonderful way you work. I still hear your voice ' you'll be fine' and I know that I am and I will be. Blessings to you all at Allen Carr (and yes, you can use this quote and my name – no problem) 
Alcohol, Emotional Eating, Sugar and Weight
I feel free from the constant thought of food.
It has been a month and i have never felt better.
Jeans that never fit me now do, its great.
I must admit I did not think it was going to go that well but it has exceeded my expectations.
I recommend anyone who is not sure whether to go or not to just go for it and you will not regret it.
Emotional Eating, Sugar and Weight
Guys you won't believe it but I have quit all my addictions one after another! I attended a stop smoking seminar in April, this seminar nearly worked but I needed a backup one so attended it a week later and haven't smoked since I then read the stop drinking now book, followed by good sugar bad sugar then purchased the quitting caffeine video seminar yesterday and completed it.
For anyone wondering on where I was before I was smoking 40 cigarettes a day (a lot for my age I think)
Was drinking 6-8 beers a day for years and then in the space of a few months it spiralled suddenly to 8-12 then 12-15 with an ever growing tolerance so I'd just do it to feel normal and experiencing shakes and withdrawals along with a funny feeling where my eyes were somtimes rolling back in their sockets and I was zoning out.
With caffeine it started with 1 35p energy drink a day from about age 15-16 then 2 35p energy drinks a day then 1 69p energy drink (500ml) then a 69p and a 35p then 2 monsters then 2 monsters and some coffee later. I wouldn't even engage with anyone until I'd had my two monsters which I'd down one after the other.
With diet I've been a chronic yo-yo dieter since 18, been able to get myself into great shape (even too thin) with willpower then get out of shape again and repeat for years
Alcohol, Caffeine, Emotional Eating, Smoking, Sugar and Weight
Makes a lot of sense.
I am steadily losing 2lbs a week so far and dont feel hungry.
No calorie counting or fussy recipes.
Frequently Asked Questions
Need some help?
Not sure if you're ready? Daunted by the prospect of what stopping smoking will mean for you? We can help.
Contact us

Our friendly team are standing by and happy to help if you have any general queries on all things Allen Carr.

Or call us on:

UK & Ireland +44 (0)208 944 7761
Australia & NZ 1300 848 028
USA & Canada +1 855 44 3777

 

Chat to us live

Still have some questions? Why not speak with a consultant. Use our live message chat to talk with one of our friendly team online.