No substitutes or medications

The one-off seminar only takes 5 hours
No cravings
No weight gain

No changing your daily habits

No withdrawal symptoms
What happens in a seminar? – Now all online
---
Overview
The seminar lasts for around 5-6 hours and you will be in a group of up to 25 smokers. You are able to carry on smoking throughout the day during our frequent smoking breaks so don't forget to bring your cigarettes.
The quit smoking group seminar is led by an experienced Allen Carr's Easyway facilitator who successfully used the method to quit smoking.
The seminar will help you understand why you smoke and why you have found it so difficult to quit in the past. It covers every single aspect of smoking from whether you think you smoke because of habit or because of addiction, because of social aspects, or because of stress or even to control your weight.
The seminar climaxes with a ritual final cigarette followed by a 20 minute light relaxation session. This is just a light relaxation exercise that reinforces the main points of the session and is always a pleasant and calm experience.
Understanding why you smoke
We do not use any scare tactics or shocking images of the harm that smoking does. You know all about that already.
Instead we examine and correct the misconceptions that keep all smokers trapped. We don't just look at the physical addiction but the mental aspect as well. You may be surprised that the addiction is 1% physical and 99% mental.
This is the most important aspect of quitting drugs with the Allen Carr's Easyway Method – as long as we 'get your head right' the physical aspects of the addiction are actually incredibly mild. We know at this point you will find this hard to believe but it only takes a few hours for us to show you how and with our money back guarantee you have absolutely nothing to lose and everything to gain.
What is it that keeps you hooked?
Smokers believe that they get some sort of genuine pleasure or benefit from smoking. That it helps them enjoy life, handle stress, relax, socialise and control their weight. For this reason they fear that even if they do succeed in quitting they will be miserable and feel deprived for the rest of their lives.
In addition to that fear, smokers also fear the downsides of smoking; the health worries, the stigma, the cost, the slavery and although they work hard not to think about them they remain like a huge dark cloud at the back of a smoker's mind.
These are the fears that keep smokers hooked.
The method removes your need and desire to smoke and removes the fears that keep you hooked.
Freedom
You will leave the seminar a happy non-smoker without any need for useless aids or substitutes. No nicotine gum, patches, lozenges, tabs, inhalators, nasal sprays or e-cigarettes!
The seminar removes any feelings of deprivation, leaving you in the right frame of mind to quit smoking and by following some simple instructions you will find that the physical withdrawal from nicotine is hardly noticeable.
You will not miss smoking!
Don't forget with the money-back guarantee you have absolutely nothing to lose and everything to gain.
Full money-back guarantee
If you don't succeed in being free we offer a full money-back guarantee.
We believe we are unique in offering this guarantee. We are able to do this because our success rate is so high.
Success Rate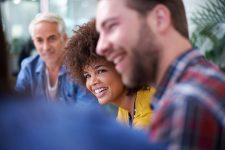 Read about our success rates published in scientific peer review journals.
Don't just take our word for it
Here are some celebrities with their thoughts on Allen Carr's Easyway to quit smoking method
Our facilitators
All our seminars are run by our team of highly experienced facilitators who have all been where you are now and quit with Allen Carr's Easyway.
Have you been successful with Allen Carr's Easyway?
Then why not tell us your story or see what else you can do to help spread the word.
Quit smoking FAQs
Do you have any questions about quitting smoking, our method or our programs?
Then visit our FAQ's section for more information.
Shop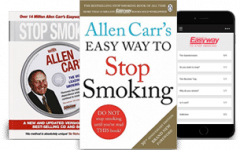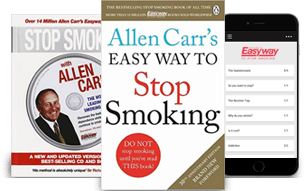 Visit our shop to purchase one of our best-selling books, AudioBooks, eBooks or Apps.
Most of our shop products cost less than a packet of cigarettes or a couple of drinks making the method accessible to all regardless of income.

Tell a friend about Allen Carr's Easyway
Do you know someone who would benefit from being introduced to Allen Carr's Easyway? Send them this page via email