Drinking while pregnant – Effects on mother & baby
Discover the implications of drinking alcohol during pregnancy. Learn about the effects on both mother and baby, and take proactive steps to mitigate the risks.
If you're worried about "drinking when pregnant", or just worried about the issue drinking "alcohol and pregnancy" then you should be commended for investigating the subject rather than ignoring it and hoping for the best. So, "how much can you drink when pregnant?" and if you do drink while pregnant "how does alcohol affect the development of a baby"?
Can you drink while pregnant?
Yes, you can but without wanting to pressurize you or make you feel embarrassed or ashamed it is extremely harmful to drink "alcohol during pregnancy". Read on to find out what happens if someone is "drinking when pregnant", what risks they are taking, and even more importantly, how you can find it easy to stop during your pregnancy.
Drinking in early pregnancy
Drinking "alcohol in early pregnancy", by which I mean the first 3 months of pregnancy, increases the risk of miscarriage, premature birth, your baby having a low birth weight, and abnormal facial features.
Please do not panic if you have been "drinking in early pregnancy without knowing" that you were pregnant. You should not beat yourself up about it or feel guilty about it – you did not even know you were expecting a baby.
So be cool – as long as you undertake to stop drinking now – you're ensuring the very best possible outcome and can look forward to all the wonderful things that await you and your lovely baby.
You can overcome that difficult start to your pregnancy without being worried about the "effects of alcohol during first trimester"
What are the side effects of drinking alcohol while pregnant?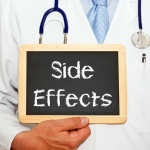 Side Effects to the Mother
When you drink alcohol – it passes from your blood via your placenta and to your baby.
A baby cannot process alcohol as well as you are able to exposure to alcohol can seriously affect their development.
The impact of this on the mother can cause:
Stress
Increased risk of miscarriage
Embarrassment
Feelings of guilt and shame
Feelings of remorse
Side Effects to the Baby
The impact for the baby whose mother drinks alcohol during pregnancy is wide ranging.
First 3 months:
Increased risk of miscarriage
Increased risk of premature birth
Increased risk of the baby having a low birthweight
Impairment of facial features
Impairment of the heart and other organs, including the bones, and the central nervous system
After first 3 months:
Drinking after the first 3 months of your pregnancy could affect your baby after they are born – a condition called Fetal Alcohol Syndrome (FAS) which leads to:
Learning difficulties
Behavioral problems
Poor growth before & after birth
Distinct facial features
The list goes on and on but rather than worry or feel bad or concerned – the most important thing that you can do is stop drinking alcohol now.
Remember, if you drank "alcohol in early pregnancy" or have been "drinking in early pregnancy without knowing" please do not beat yourself up or give yourself a hard time. The fact that you're seeking advice and help right now is the most important thing and you should feel great about doing that.
Stopping drinking when pregnant
Some people are lucky and find it really easy to stop drinking just as soon as they find out that they are pregnant. Others are not so lucky and can find it a real struggle. They end up feeling uptight, tense, anxious, and miserable because they feel they are obliged to stop drinking and are therefore missing out on something. If they cave in and drink alcohol in spite of all the warnings, they end up feeling even more awful. Explain that stopping drinking while pregnant can be difficult and how Allen Carr can help in this situation.
The real trick is to embrace the idea of not drinking alcohol throughout your pregnancy and instead of feeling deprived – you can feel fabulous that you are not only doing the right thing for your baby – but the right thing for you. Finding it easy is the important thing and Allen Carr's Easyway will help you not only control what you put in your mouth – but control what goes on inside your head.
Final Thoughts
Put the issue of drinking alcohol during pregnancy behind you and look forward to the amazing journey that lays ahead of you and your baby. You no longer have to ask yourself "can alcohol harm early pregnancy"? Or even "can one sip of alcohol affect pregnancy" – you can just focus on taking great care of yourself and your baby.