To Russia, with Love
I remember a conversation I had with Allen Carr in 1999. We were discussing our hopes and dreams for extending the reach of his Easyway method to every corner of the globe. Allen was a genius who grew up in humble surroundings in a run down part of West London and he was thrilled that his innovative quit smoking method had already travelled to many countries in just a few short years.
We spoke about Moscow and a dozen or so other Russian cities and looked forward to the day when we might reach them all…and beyond.
Imagine our joy, a few years later, when we managed to get 3 of Allen's books into the Russian Top Ten Bestsellers List at the same time! It drew amazing media coverage in Russia, including several pages in Russian Newsweek Magazine.
It remains one of my most bitter regrets that Allen didn't have the chance to join me when I finally got the chance to visit the great nation of Russia in person. He would have been as wide-eyed as I was.
As a young boy in the early 1970s, I remember seeing news film of Red Square parades watched by Leonard Brezhnev and other officials from the podium of Lenin's mausoleum. It seemed like an impossible dream to think of visiting the city then, a fantasy that was unlikely to ever be fulfilled.
It was these thoughts, and that conversation with Allen Carr in 1999, that occupied my mind as I stood in Red Square marvelling at the multicoloured spires of St Basil's Cathedral, the walls, turrets, and towers of the Kremlin, and the sheer beauty of Red Square and its surrounds (I believe Red is  a word used to describe beauty, which is where the name Red Square originates from…I can understand why).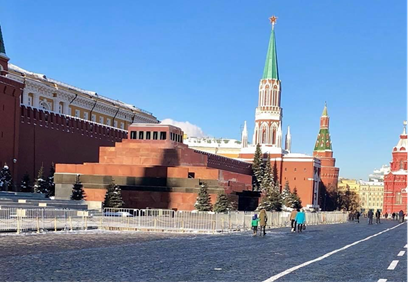 I owed my visit to 4 brilliant Russians who it was my pleasure to journey to meet in person in Moscow.
Alexander Formin & Roman Kozyrev were pioneers of Allen Carr's Easyway to Stop Smoking in Russia.
Roman, who is our publisher at 'Dobraya Kniga' has saved millions of lives in Russia as a result of his wonderful efforts on Allen Carr's behalf in the specialised field of publishing. It was my pleasure to present Roman with a special "Lifetime Achievement Award" as a token of my eternal gratitude for his hard work, professionalism, diligence, excellence, and kindness over many years. To be able to hand him the award in Moscow was a special pleasure for me.
Roman Kozyrev receives his special award
Alexander Formin and Artem Kasyanov are true heroes of Allen Carr's Easyway in Russia. Alex has worked diligently, intelligently, and with tremendous flair, skill, and talent in ensuring that Allen Carr's Easyway method became moulded into shape for Russian smokers.
Alexander Formin & John Dicey at Spartak Moscow's stadium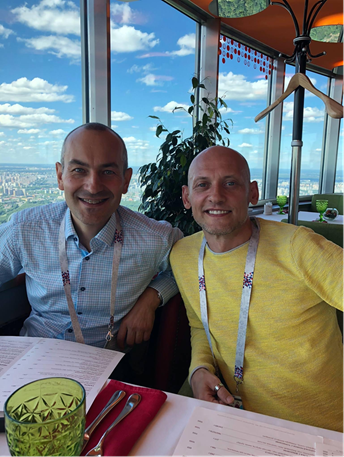 Artem Kasyanov & Alexander Formin at Ostankino Tower
Alexander is a 'Top Gun' Allen Carr's Easyway Therapist and a key member of our international team. Likewise, Artem, whose energy, dynamism, and spirit have carried Allen Carr's Easyway's message far and wide across Russia. His talent, hard work, and entrepreneurial drive have taken the method a very long way in a short period and Artem now heads up our Alcohol Addiction Centres across the whole of Russia.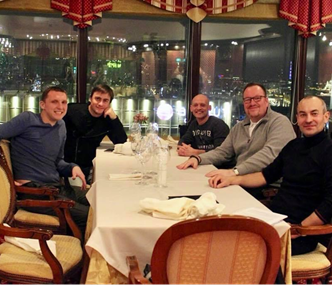 Ramil Bilyaletdinov, Gregory Polkan, Alexander Formin, John Dicey, & Artem Kasyanov
Last, but not least, and probably most important of all, the brilliant Ramil Bilyaletdinov and his team at Demis Group, who were so inspired by the impact of Allen Carr's Easyway on their own lives, and those of their employees who attended our corporate service, that they stepped forward to help build the dream for Allen Carr's Easyway Russia – bigger, better, and broader – across the Russian language world.
It was a great pleasure to present an award for their Dynamic Strategy in 2018 in Moscow and also to invite them to London for our International Conference to recognise their achievements.
Some of Team Russia accompanied Ramil Bilyaletdinov on a visit to meet John Dicey in London & attend Allen Carr's Easyway's International Conference 2018
To have visited Moscow several times, to have visited the beautiful sights of the city and beyond, to have been in the city the night that Russia beat Spain in the World Cup 2018 and be in the streets onto which the entire city seemed to empty, to have enjoyed the professionalism, hard work, dynamism, and innovative approach to achieving our goals with such a forward thinking team of people, of great Russians, has been a pleasure and delight, and one that I wish I could have shared with Allen himself.
Allen Carr's Easyway to Stop Smoking Centres Russia has played a major part in our work with the World Health Organisation in 2020/21 and receiving recognition and thanks from WHO for those efforts is no more than the team deserve. I salute, Alexander, Artem, Roman, and especially Ramil Bilyaletdinov for their tireless work for the citizens of Russia who need help, support, and guidance with addictions and behavioural issues.
Since 2008, the Russian centre has helped thousands of smokers quit smoking, including employees of the Russian government and huge corporations. The benefit is not only enjoyed by the employees who quit smoking, but the companies and government agencies have been very grateful to the centre for the improvement in the productivity & efficiency of their employees once they are freed from their addiction.
Freedom from Smoking in Russia
Freedom from Alcohol in Russia